Wheee, I'm spinning away or "The Spoils of War"
Well I survived Rhinebeck,,, plus still have money leftover to boot! Amazing!
Naturally the air was cool and crisp! The views with the trees changing were amazing! Hubby and I arrived at our motel a bit later than expected, due to traffic,, but all in all it wasnt too bad of a trip. We went out to dinner to an amazing little place called the Hoffman Inn Tavern, built circa 1711. Beautiful ambience, great food, and even better dirty vodka martini's.
First up is the software I picked up!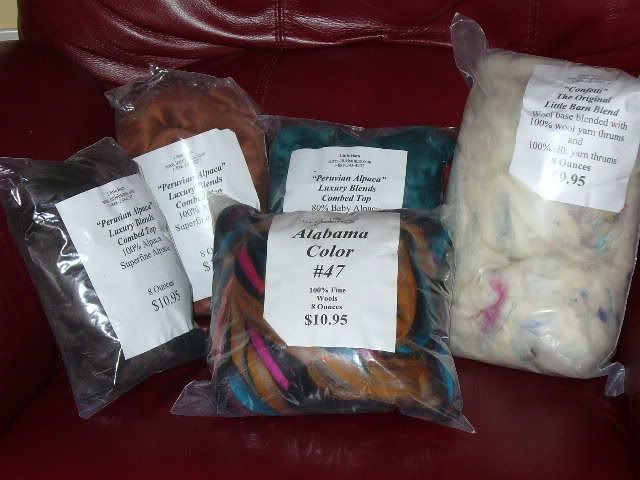 The bag in front is 100% wool roving, bag on right is wool with wool thrums and silk thrums mixed in. The last 2 bags on left are 100% Alpaca, and the teal bag is an Alpaca/Merino mix!
Skeins in back are all half pounders! Left skein a Merino/Mohair mix, 2 next to that one are 100% Merino. Last 2 are Corriedale! The bright colored one are 3 roving strips I bought of a Merino/Tencel mix. And of course I finally picked up a Spinners Companion for reference!
Next up is the hardware!
On the left baby camel with tussah silk, followed by 2 Bosworth spindles, and a Golding spindle. Above that 3 Dbl pt needle holder, 2-7", 1-5". Above that 2 of the 3 bobbins I picked up for my Joy, and to the right of them,, a Nancy's Knitknack knitting pouch (which was the only spur of the moment purchase that I actually made) with a container of Wood Beams to keep all my spindles in prime and glowing condition. I met Sheila Bosworth, who is a little gem all on her own, and a very helpful lady. I also ran into The Shizzknit (Maria) from the Knittyboards,,,who enabled me to purchase my 2 Bozzies,,, and put my name on the waiting list for a Moosie,,, when they are made next year!
This was other fiber that I bought that I didnt place in the groups above.
I couldnt wait to play with my new toys,,, first I went from this,,,,,
To this,,,
This is the Merino/Tussah mix that I bought.
Then this,,,,,,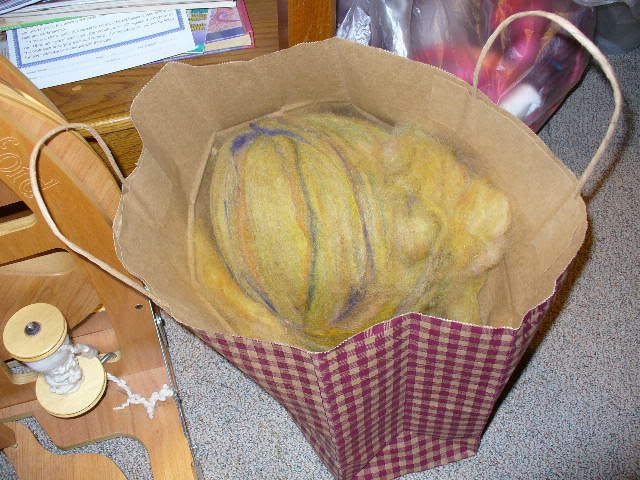 To this...
This is a 100% wool,, actually I'm not sure what type this one was. No tag on it,, just a knitted swatch sample, which looked so scrumptious, that I had to buy it. A full pound of it too!
Oh, and that felted bag I was making on the Knify Knitter loom to use as a Spindle bag at Rhinebeck? Got it done the night before we left,, except for the felting. Hubby was not amused that we could not leave till I threw it in the wash and the cycle was done. Luckily too that I had this tall ceramic container for spaghetti,, lol,, it was used for blocking while it dried the whole day Friday,,,, but it was put into good use Saturday,,,,, held my fiber (in a ziplock) with the spindle on top of it,, with plenty of room to hold a couple of packs of cigs at the bottom, with space left over!!!
Strap was a bit too long, but a knot in it took care of that.
Colors came out very nice, tho the pic isnt the greatest,, you can see how it came out and the size as compared to my handy reclining chair!