I'm a busy little bee,,, just not with knitting
Well I decided to use my blue toned "Days End "roving that I got from Abi at Praire Fiber. It is spinning up so thin, I just cant believe it! The color really reminds me of faded denim blue jeans!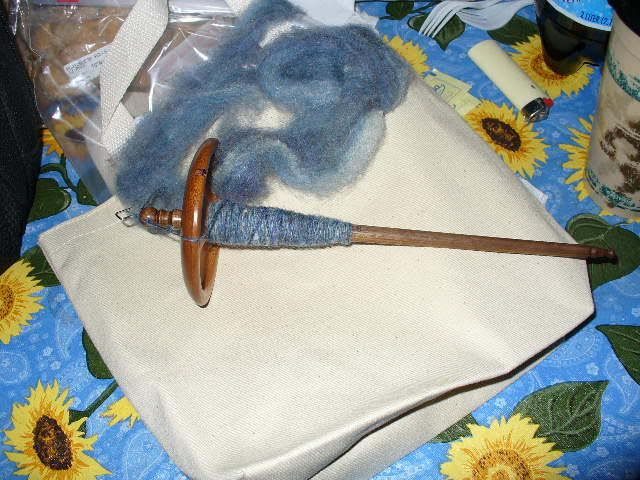 I attempted some knitting on my Storm Scarf with the Seasilk. Geesh do I have to get used to laceweight! The first row looks awful to me,,,and my nail tips dont help to much either,, but I'll give it a shot, a little at a time. Spent to much money on that yarn to give up on it!
Karen
tried to give me a hand with my blog. I am having much trouble at points with it. But since with vacation in full swing,, and no alarm clock to set for the morning, I have been experimenting a bit.
I redid it,,, transferred everything from the old one to this,,, lost my comments. Not that I had that many at all. And of course everything is dated that I transferred as of yesterday.
But I think it looks much better, no messed up sidebar. Its going to be a long slow arduous process I think.
I decided today was going to be a casual knitting day. Which means, I did a row here,,, a row there, in between driving around with hubby, getting coffee and hanging out and enjoying the sunshine. There is the Oyster Bay Oyster Festival going on,, and I hope to convince him that we should go tomorrow. I hope to go. I have an urge to eat some oysters and such that wont go away that easily!
Once home from our drive,,, I laid my needles to rest for a bit. I decided that I wanted to make some stitch markers,, so that when I decide to pick up Clapotis again,,,I'll be ready.
So here's what I've gotten so far.
Such pretty blue beads. They remind me of Earth from space!
The completed set.
2nd set......
Last 2 to make into sets. I love these beads and colors because they are the colors of my birthstone, Periodot.
I did make it in earlier to work on Friday. I wanted a totally stress free day if it was possible, with it being Friday the 13th and all. Not that I am superstitious, but what the hell, better safe than sorry. So I went over to the Yarn Girls store and picked up some new double points (5" ones at that!), and 2 more skeins of Noro Kureyon in a different color than what I used in my Noro Hat. It is destined to become Noro Hat #2. Beautiful colors,,, I just love Noro now!