RHINEBECK IS 2 DAYS AWAY!!!!!!!!!!!!!!!!!!!!!!!!!!!
Oh, and I just cant wait! I've my shopping list .
Its broken down into two lists. #1 - Hardware,, such as spindles, bobbins and such.
#2 - Software,,, Fiber, fiber, and more fiber!!!
I sort of got sidetracked again (when do I not get sidetracked?), and I decided to make a pair of handwarmers. I dont think the first one will be ready in time,,, but I am attempting.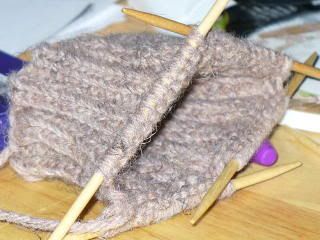 I am also attempting, of all things a Moebius Scarf. I cast on extra stitches that what the pattern I found calls for,,, and boy are things squishy tight on my circulars. Simple pattern tho, one row Knit, one row Purl. I can see how its coming out now. The half twist is very defined on it. Again, an experiment in the process.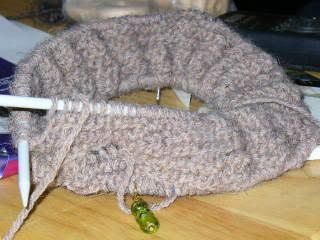 I am bringing both the scarf and the handwarmer(s) with me to Rhinebeck, to work on tomorrow nite and at the festival (in between spinning hopefully!).
The other big project, well maybe not so big, but one that I am trying to get done tonite if possible, is a loom knit bag that I am furiously knitting up (the one thing I'm quick on) into a spindle bag. I had bought 2 skeins of Patons Classic Merino,, in a variagated colorway, that if all goes well, should get into the washing machine tonite! Either way I have a backup bag for my spindle that isnt quite as pretty,,, but it does the job.
Either way,, I'm so excited about Saturday! Planning to meet up for a bit with some of the folks from the Knittyboard,, including one woman who so to speak is in my neck of the woods. Cant wait to meet her,, or her socks and sock kits (Kudo's Lisa).
So,,,, with all this going on this weekend, I still have one more week before I go back to work! Cleaning of the house is on the agenda - I took it really easy all this week, but between the cleaning,,, all that spinning I can do with all the new toys I'll be buying myself!
Now if I can only convince Hubby to buy me an Alpaca! :)