The Knit-Out and more goodies!
It was a busy busy weekend last week. I swear I should start getting frequent flyer/driving/traveling miles for what I put in every week and then some. I had hooked up with Karen (Cooknknit) on Saturday for help on using my Ashford Joy. I've had my poor Joy for about 3 years easy, and it was very very lonely. I basically wasnt sure, couldnt remember what did what on my poor wheel. Time is not a friend anymore to me, and patience, to a degree is not my best virtue due to the time issue. Karen helped to refresh me on what went where,, what did what in relation to everything else. It took only a few minutes but can I say I felt like 1- a dunce,,,, 2- as if a very black cloud suddenly floated away from over my head. All I can say is ,,,Karen,, thank you oh so much!Prior to that, Karen had been telling me that she was going to the Park Slope Barnes and Noble,,, Stephanie Pearl-Mcphee was going to be there for a book signing. The Yarn Harlot herself? Of course I wanted to go. So off we went. Some of the other women from the Knitty Board were there that Karen knew, and it was so nice to meet them, plus to see what sort of knitterly things they were up too.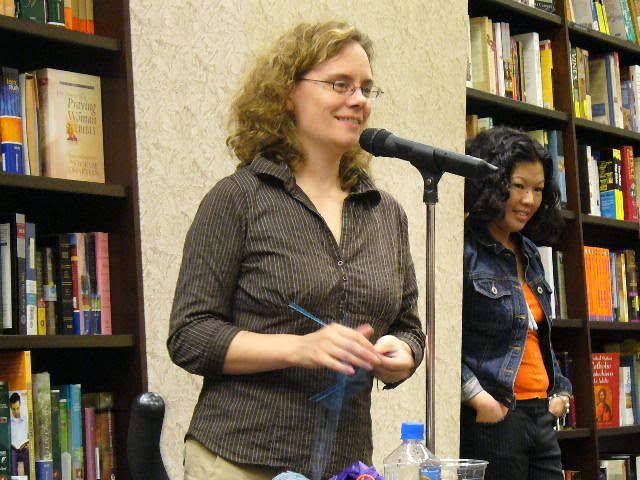 Stephanie speaking.
Stephanie with the kneesocks that Karen had finished while she was talking to the audience.In the time being, I've been working on my Noro hat. This is what I have so far, I'm about half the way done!
.