Maryland Sheep and Wool (or Search, Shop and Destroy)
They say picture is worth a thousand words. Well here is my story. Kelly (Licraftgal) and I had a fabulous time! It all started out with leaving her house once I got home from work and grabbed my stuff to go to hers, at 2:30 am! Much of the nite going was quiet, no traffic, and incident free! We arrived at the fairgrounds around 7-7:30am, and were able to walk right in. Once in, we proceeded to The Fold, where we were shocked to find out we were the 2nd and 3rd persons there! But not for long, Artsygal, Turtlegirl and Trillian from Knitty showed up moments later. If it werent for Turtlegirl's turtle backpack,,,,lol.
So we walked, we looked, we bought, and then bought some more.
And bought some more,, and nibbled here and there!
This isnt even counting the extra bobbin I got for my Woolee Winder, or the bag of undyed Coopworth roving that I forgot to put a pic of up. And my copy of Teach yourself visually Handspinning. Plus my MDSW Fest souvenirs too! Or the enormous gigantic Chocolate Eclairs that Kelly and I dragged home from the fair for our families. Or the fleece we bought for a total of $8.00 that we split in half just to have something "Raw" to play with. Hmmm,, that one line doesnt sound very good, does it?
Coming home was interesting. We followed the mapquest directions exactly and I guess it was the long way,, we ended up going home thru Philadelphia! I guess we took the scenic route!
Now these next items I got from Thursday till now. Reciving my books and Skeinwinder (which I still have to put together) made my day. That day I didnt make it to work. My car started doing things cars shouldnt do while on the highway,,such as losing brakes. Not a good thing, and I was simply not in a good mood after waiting 3 hours for a flatbed to bring me back home (Thank you AAA premium service!). Once home, Mr. UPS man showed up about 20 minutes later bringing me my goodies. Made the day more bearable for me, thats for sure! That mesh drying rack,, what a find! Double duty here,,,, a rack for drying sweaters and such AND think of all the fiber I can dye, fleece I can wash,, and yarn I can dye and easily dry on this gizmo! Thank you Wal-Mart!!!
PS this last photo set,,, I just realized you can play with the controls at the bottom or just shut the sound off if you'd like!
Finally 2 things, lol. I actually put some length on my Jitterbug sock!
Last week, at the Festival,, I had this much done.
Now I have this much done! Slowly but surely, I just might finish a sock yet!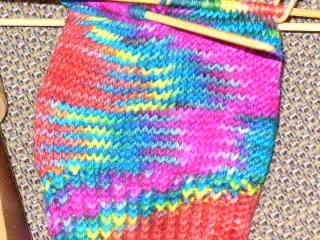 The second thing,, my verticals got installed today,,, in under 30 minutes too! My livingroom is starting to look like a livingroom. Now to just clean it up and put all the fiber related items in my spare room and to start working on that!
My double sliders at rear of living room.
And my double window at the front of it.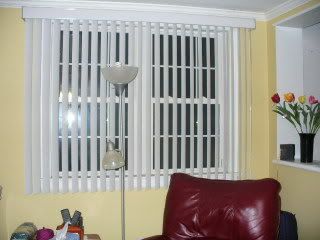 So this is it for the moment. One more work week to go and I'm off for one more week. It cant come fast enough!
Lastly,, to all the Mommies out there in the world and Blogland, Happy Mother's Day.
Mom, I love you and miss you, especially on Mother's Day for the past 24 years. I will not forget a single thing you've taught or shown me. As I knit or crochet, you are as much alive as when you first taught me!
Labels: Fiber Spinning tools, Fiber Festivals, yarn