My First KAL, Goings on and a Recipe!
I am just so excited! I'm not even sure how I came across the blog,, with all my internet cruising and all, but I found the loveliest shawl/stole pattern on http://pinklemontwist.blogspot.com/. The Pattern is called Solace,,, and I fell in love with it at first glance of the pic. Why? I dont know. Maybe because it calls for using a worsted/aran weight yarn? Because the lace pattern looks simple, really simple to do? Either way, I can picture myself wearing it,, on all those chilly nites in my house on my couch. Good enough of a reason to knit it for me, if I ever saw one!
I wanted to spin on my wheel tonite,,, I really hadnt had a chance to do much spinning, or knitting for the matter this past week. Just way too tired from work and traveling. So I get my Joy,,, and "GASP" the little plastic piece that attaches the treadle to the crank broke off! Hubby came to the rescue and did fix the wheel,,, but while he was playing, I broke out my double points and started to work on "Fetching" from Knitty. It is coming along nicely at my slow leisurely pace! I'm on the 3rd cable round, so for me thats an accomplishment, in between watching tv, watching over hubby not to do more damage to my wheel, and dealing with DS who is really becoming a total hemorrhoidal pain in the butt.
I have been spinning on my spindle,, in bed, prior to going to sleep. Got a bit done the past few nites,,, but nothing to shout about. Its the Merino/Tencel blend that I'm spinning on my Golding. So nice!
I broke the yarn diet again, twice in the past week. Most recent was yesterday, Prior to work I ran to "The Yarn Girl" on Staten Island, and picked up 2 balls of Debbie Bliss Cashmerino Chunky in black, and the Holiday issue of Interweave Knits. It figures, I went in there to get another cable needle, she was out,, and I still walk out with a bag (and purpley Yarn Girl pens!).
I did get half of a handwarmer done, after Fetching I'll cast on for the 2nd one. I really do like the way the thumbhole came out. I did it in a 7 stitch buttonhole (I think). Gives it a nice finished look.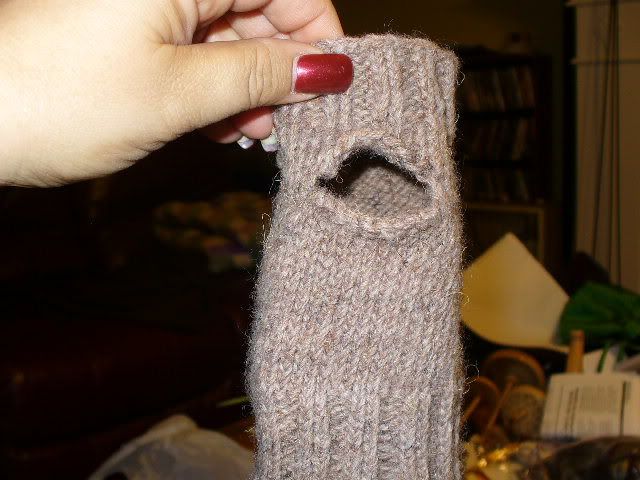 The not so recent was last week. I decided I wanted to make a Clapotis for me finally. WEBS was having a sale (sort of) on Artyarns Supermerino, and they had a colorway I liked (#105). So an order later of 9 skeins,,,, I am really such a sucker. Only thing is,, I get an email from them on Mon or Tues I think,,, that the color I wanted is out of stock and is on backorder. They expect delivery in about 3 weeks!
Lets see what else. I did do a swap with a friend and got the Knitpicks Knitting bag set. Very cool. Now I need to order the chart keeper from them, and maybe then,, for the moment,,, I will be complete. Till something else comes along that is.
Tomorrow I think I will make another set of stitch markers,, since they whip up so fast. I've the cutest little dice beads,,, and I want to have something cute to use for when the Supermerino comes in and I can start my Clap.
It should be an easy day for me, short of doing housework and laundry. I've already got dinner halfway done for tomorrow,, thanks to my crock pot. Beef stew ready to go and get plugged in for tomorrow. Thank god for the almighty Crock! Throw the food in and forget it for 5-8 hours. This is going to be about the third time I've made it in the past month, its really that good.
As a matter of fact,, here's the recipe.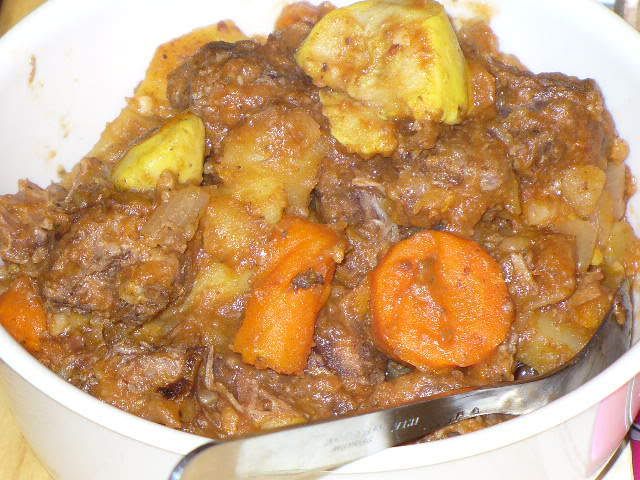 Beef Stew

Serves 6

3 pounds beef chuck, trimmed of visible fat and cut into 1 1/2-inch cubes
1 small can of tomato paste
3 tablespoons balsamic vinegar
2 tablespoons all-purpose flour
Coarse salt and ground pepper
1 pound medium onions (about 2), cut into 1-inch chunks
1 pound (about 6) small white or red new potatoes, well scrubbed, halved if large
1 pound carrots, cut into 1 1/2-inch lengths
6 garlic cloves, smashed
2 bay leaves


To cook slowly, place beef in a 5-quart slow cooker. Distribute tomato paste, vinegar, and flour over beef; season generously with salt and pepper. Add onions, potatoes, carrots, garlic, and bay leaves. Cover slow cooker; cook on high until beef is fork-tender, about 5 hours (or cook on low heat 8 hours).

I'll tell you, I had never made a beef stew before using either tomato paste or balsamic vinegar, but it works like magic! One taste and you'll see!
Hmmm, maybe I should post one recipe a week on here.
OK here goes,,, next week,,, Super easy almost Sugar Free New York Cheesecake (the type that will sink like a stone, its so dense!)